Fire (flames) may contain plasma, albeit one that is a partially ionized plasma, and dominated by collisions:
The Contemporary Physics Education Project produces a poster on plasmas (see right) in which flames (ie. fire) is shown as a plasma.[2]
In his book, Introduction to Plasma Physics and Controlled Fusion, Francis F. Chen notes:
He further goes on to describe three parameters that need to be satisfied in order to identify a plasma. These include (1) the plasma approximation (2) Bulk interactions (3) Plasma frequency. In his book, Chen goes on to assess whether certain phenomena are indeed plasma, based on the three parameters, and concludes that a typical flame does indeed meet the criteria of being a plasma.[4]
In practice then, fire is a highly-collisional, partially ionized plasma in which the collisions might mask some of the collective behavior.
Flame plasmas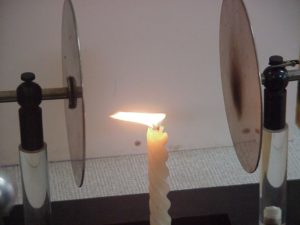 Flames as plasma
Alfred von Engel writes:
Professor of astronomy in the Physics and Astronomy Department at Tufts University,[6] Kenneth R. Lang writes:
M. Ikeya writes:
Types of flame plasma
Alfred von Engel notes:
Flame plasmas in electricity generation
Alfred von Engel writes:
Footnotes
See also
A. Von Engel & J. R. Cozens, "Origin of Excessive Ionization in Flames", Nature 202, 480 (02 May 1964). "It has been known for a long time that combustion reactions of the type occurring in flames are sometimes accompanied by an extremely high degree of ionization and excitation of the flame gas (Ref: Gaydon, A. G. , and Wolfhard, H. G., Flames (Chapman and Hall, London, 1960).)"[1]
External links
Cite error: <ref> tags exist, but no <references/> tag was found