A comet is a body in the solar system that orbits the Sun. It consists of a nucleus that is perhaps made of rock, dust, and ice, and may exhibits a coma (atmosphere, with associated ionosphere, magnetosphere, sometimes called a plasmasphere), and/or one or more tails: an ion tail (or plasma tail) and dust tail.
In the plasma of the solar wind, and due to the photoelectric effect, the comet nucleus may charge electrostatically, and the ions and dust in the ionosphere and tails produce their own magnetic and electric fields, and electric currents.
Interaction with interplanetary medium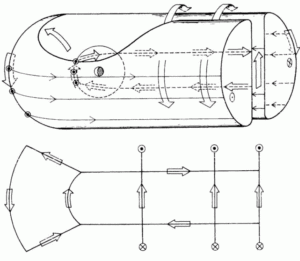 Immersed in the plasma of the interplanetary medium, a comet may be associated with:
In 2004, NASA's Stardust spacecraft on a mission to comet Wild 2 (pronounced "Vilt 2"), "found 20 jets, on both the sunlit side of the comet and, surprisingly, the dark side".[23][24]
Comet tails
Fyodor Aleksandrovich Bredikhin (1831-1904) of Russia first "introduced a scheme for classifying cometary tails into three types, depending on whether the repulsive force was more than 100 times the gravity of the Sun (Type I) or less than one solar gravity (Types II and III)"[25], though the classification is rarely used now.
Plasma tail, or ion tail, or 'gas' tail (formerly Type I tail): always points directly away from the Sun, and consisting of ions such as water ions, is often turbulent with twists and knots. It forms closer to the Sun that the dust tail, its origin is usually thought to be due to charge-exchange reactions and photoionization of atoms and molecules in the coma.
Dust tail: (formerly Type II & III): Often a smooth curved tail, made of dust particles (the difference between the two types is due to the particle size distribution), and sometimes showing filamentary 'striae'. The dust is usually thought to originate from the comet nucleus as gases vaporize
Sodium tail: consisting of neutral sodium atoms
In 1957, two Belgian astronomers reported that Comet Arend-Roland had two tails pointing in opposite directions:
"A comet can have more than one tail and the two tails point in opposite directions. In November 1956, two Belgian astronomers spotted Comet Arend-Ronald (sic). In April 1957, it appeared very strange. It appeared to have two tails pointing in opposite directions! This was very unusual. A comet's tail normally points away from the Sun because of the solar pressure. This comet's tail was pointing away from the Sun, but it was also pointing straight toward the Sun, too! Scientists later realized that the tail could only stay like that for so long, and then it would turn back to normal. Scientists think the comet had two tails because dust particles got in the way of the comet's orbit."[26][27][28]
Venus' tail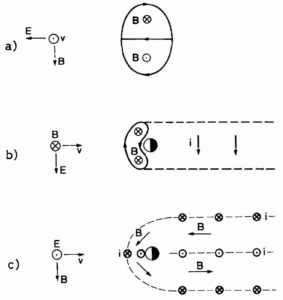 In the late 1970s, NASA's Pioneer Venus Orbiter discovered that Venus had a tail, after "detecting bursts of hot, energetic ions, or plasma" at about 70,000 kilometres from the planet, due to the interaction of the Solar Wind with Venus' atmosphere. [29] In the 1990s, the tail was found to extend almost as far the Earth, which Jet Propulsion Laboratory team member Marcia Neugebauer described as "a lot of little stringy things" like those of some comets, which can have several ion tails".[29] [30]
Electric fields, currents and circuits
The Pioneer Venus Orbiter also identified an induced electric field in the tail, and magnetic field reversals indicative of electric currents.[31] Russian Venera probe measurements have been interpreted as unipolar induction effects.[32] Hannes Alfvén has noted:
"As Venus, like the comets, has no appreciable intrinsic magnetic field, the solar wind interaction with her is likely to be essentially the same. Gringauz (1980)[33] has analysed the in situ measurements made by a Venera mission to Venus and constructed a current system which is similar to the Mendis model, which hence to a certain extent has been confirmed by in situ measurements.
"The Gringauz current system has [..] surface [..] there is a neutral sheet [..] current flows in this sheet and closes through semi-circular loops `upwards' and 'downwards' from the plane of symmetry."[34]
Lunar tail
In 1999, the Moon was found to have a neutral sodium tail.[35]
Meteoroids
It is noted that by Murad and Williams (2002):
"For low speed particles, it is worth noting that meteoroids in space are electrically charged due to cosmic rays, solar UV, and other effects (solar wind and ions and electron impacts). The electric charge changes according to the environmental conditions. In interplanetary space, the dust grains are positively charged because of photoelectron emission. However, meteoroids in plasma (magnetosphere) can be negatively charged: for example, from studies by Horányi (1996, 2000), on dust streams near Jupiter and Saturn, grains in a cold plasma are negatively charged, while those in a hot plasma switch their charged to positive values"[36]
History
Notes