Estimated to be 99.999% of the visible universe, cosmic plasma may be considered to be the first state of matter, that preceded the other states of matter in the history of the evolution of the Universe. Here on Earth where plasma is less common, it is often considered to be the fourth state of matter, after solids, liquids and gases.
The fourth state of matter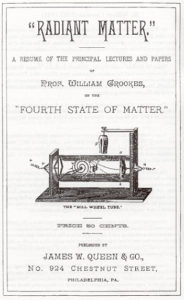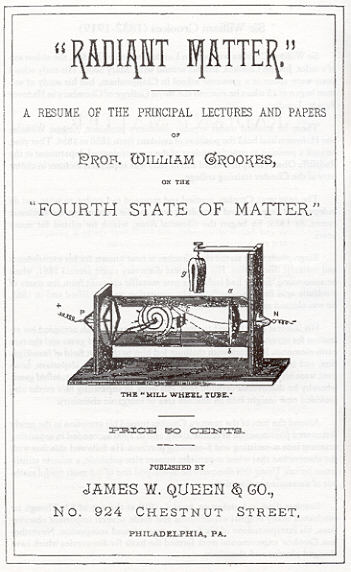 The British English chemist and physicist, Sir William Crooke (1832-1919), first described a "fourth state of matter", which he called "radiant matter", in a lecture delivered to the British Association in Sheffield on Friday 22 August 1879,[1] "Crookes already realized in 1879 that that matter of a discharged gas behaved unlike a regular gas".[2]
The first state of matter
Shalom and Yaffa Eliezer write in their book, The Fourth State of Matter, An Introduction to Plasma Science:
"Over 15 billion years ago our Universe was squeezed into an extremely small ball, that was unstable and exploded violently. This was the most gigantic explosion of all time. This description of the early Universe is known today as the 'Big Bang' model. [..]"
"The matter which composed the Universe was so hot that everything was in the form of plasma. Thus, in the very beginning, plasma was the first state of matter. The fragments of this explosion became the stars of our Universe, including our own Sun. During the expansion of our Universe, the matter cooled down and thus some of the plasma changed into gas, which further cooled down and became transformed into the liquid and eventually the solid states. This is the reverse of the sequence of events which will be discussed in Chapter 2 on generating plasma as the fourth state of matter." (emboldening added) [3]
Radu Balescu writes in his book, Aspects of Anomalous Transport in Plasmas,:
"Plasma is often called the "fourth state of matter", assuming that solid, liquid and gas are, respectively the first, second and third state. If however, the criterion of classification is changed, plasma should be called the "first state of matter", given that more than 99% of matter in the universe is in the plasma state. This trivial remark underlies the importance of plasma physics."[4]
See also
Notes
Keywords: Plasma: the 1st state of matter; Plasma: the 4th state of matter